Riverside Bicycle Routes in Korea
So far our favorite ride, this is a recently completed (2015) bicycle route that follows Korea's four major rivers: Hangang River, Nakdonggang River, Geumgang River and, Yeongsangang River— stretches 1,757 kilometers across the country and takes riders past traditional Korean villages, historical relics, and restaurants with traditional Korean food. The routes are mostly on paved bicycle paths that feature vehicle free cycling and offer a variety of convenience facilities including camp sites, food stops and covered shelters. Bicycle rental shops are on the way, so visitors can rent a bike and gear.
This is a easy system of cycling paths that anyone can follow and is suitable for all ages. Just follow the signs that indicate the route. Some of routes are on roads but traffic is light. The Seoul to Busan route can be done with a couple of weeks of pedaling
---
Guides, Maps and Other Information
---
Riverside Bicycle Routes in Korea Korea Tourism Organization. Has short descriptions of the major routes. You can also try this link. And click the search button. It will list all bicycle rides on the sites in Korean. Turn on Google Translate for other languages.
Cycling Corea "An enthusiastic amateur cyclist who loves cycling and I want to help others to experience the wonders and joys of exploring Korea by bicycle." Has links to guides and maps.
Rivers guide by K-Water Covers all of the river routes but doesn't provide much detail
Riverside Bike Trails in Korea PDF made by the South Korean Tourist office.
Korea.net Korea.net is the Internet portal that represents the voice of the Korean government and which promotes Korea online. Not specifically about cycling but has lots of info.
Naver Maps This the "Google Maps" of Korea only better. Has amazing detail and shows bikes paths. Click on 자전거 to turn on cycle paths.
See the Maps and Guides page for more mapping information.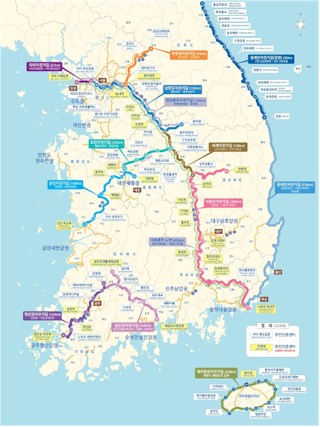 Click on map for larger image
---
Downloadable guides in PDF format. These are out of print.
Geumgong and Yeongsang as an Ebook
There are many cycling apps with maps available for iphone and android. A couple of the better offline apps are listed here.

Maps.me is listed here because it is the app we use most often for navigation on roads or on trails. It is based on OpenStreetMap and covers most of the planet. It does not display OpenCycleMap.

Guru Maps has the ability to show map types other than OpenStreetMap, in particular it will display OpenCycleMap.
---
What it is Like
Korea is a place where any cyclist can find a route to please them. Those who want an easy ride can follow the 1,700 kilometers of long-distance cycle paths. In the far north there are opportunities for cyclists who love the challenge of switchbacks and steep climbs. In the south you can take a ferry to semi-tropical Jeju island and follow the serene coastal cycle paths.
- Travel Tips


and
will ship bicycles for free as baggage. Must be under 50 Lbs.
- Ride Quality
Mostly on paved pathways near major rivers. Road sections are on small agricultural roads. In a few areas the path may be near busy roads. Some sections are on causeways dedicated to cyclists.
- Elevation Change
The routes are mostly level but in some areas the routes travel through hilly terrain. Although the steeper sections are on roads, traffic is very light.

- Best Season
September, October, and November. Summers can be hot and wet and winters are cold.
- Options
Busan is an easy place to start a ride, transportation from the airport is by light rail and only takes a few minutes. Many hotel/motels are near the light rail system. Busan is also the place to catch a ferry to Jeju Island which has a round the island cycle route.
---
Links to More Detailed Information about Riding in Korea
Bicycle Touring from Seoul to Busan
Ministry of Interior site on "Happy" routes. Is good for an overview of what's out there.